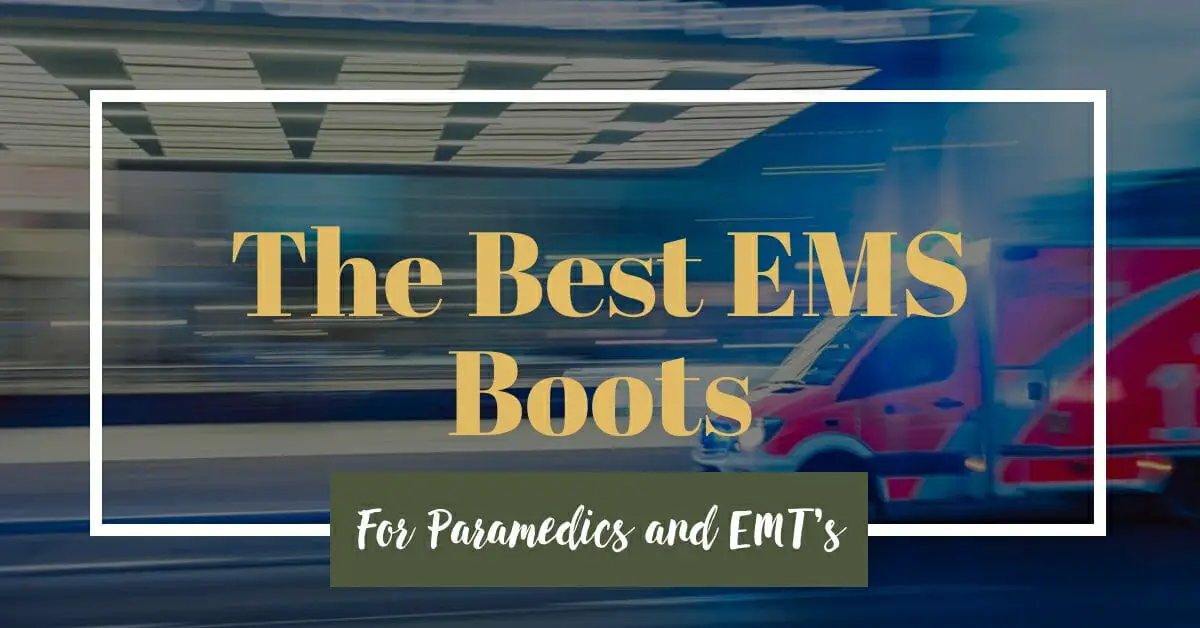 The best boots for EMS (Emergency Medical Service) personnel are high-quality, comfortable work boots as tough as the workers. EMTs and paramedics spend long hours on their feet, often in challenging, volatile situations; protecting their feet against injuries, foot pain and foot fatigue is essential.
We've spent days compiling a list of the best paramedic boots that will provide the comfort, support, stability, and protection first responders need and deserve. Our list includes the most comfortable boots for EMS, waterproof boots, and boots for paramedics who need a pair of hiking boots for demanding trails.
What Makes A Boot One of The Best Paramedic Boots
Emergency personnel face unpredictable situations daily; they aren't always sure what risks and dangers they will experience. Boot manufacturers understand specific jobs require additional safety standards. They construct boots that meet or exceed ASTM (American Society of Testing and Materials) standards. The impact and compression tests are two basic tests for EMS boots.  
Impact test measures dropping weight on the EMS boots; the work boots must meet 50 or 75. 
The compression test is the pounds applied to the safety toes that break or crushes it. 
The best EMS boots meet or exceed the ASTM requirements and have these specific features and characteristics in common.    
Waterproof & Breathable
EMS boots made with waterproof materials are essential when working in wet environments, shallow waters, floods, and rain. However, waterproofing reduces the boots' breathability, making them uncomfortable to wear in hot climates and sweaty feet. Many brands use mesh fabric with leather to improve breathability without losing the waterproofing characteristics.
A waterproof boot will also protect EMS personnel against bodily fluids, chemical hazards, and seasonal weather conditions. Work boots with water resistance will keep feet dry to a certain degree but not entirely in snow, rain, and very wet areas. For complete dryness, an EMT worker should opt for full-grain leather upper or synthetic uppers that are waterproof or work boots with Gore-Tex waterproof membranes or linings. 
Slip Resistant Rubber Outsole
An EMS work boot must have a slip-resistant outsole providing a solid grip and traction when the EMS worker needs to move fast over slippery surfaces. The rubber sole with excellent lug patterns provides the necessary traction to keep men safe over wet, slick, and oily surfaces. 
All-Around Foot Protection 
EMS tactical boots with composite or steel toe caps will protect toes against falling objects and equipment. Although it may not necessarily be a company safety requirement, steel toe boots or composite boots could protect feet against those unintentional accidents. Always check with the company what are the clothing and footwear safety guidelines.
EMS boots with steel or composite toe construction often have additional built-in safety features. The tactical boots provide all-around foot protection against hazards like electrocution, impalement of sharp objects, and impact. The tactical boot shaft is generally 6-8 inches high for upper foot and ankle protection. 
Lightweight
Lightweight EMS boots reduce the weight they need to carry, allowing an EMS worker to move quickly in emergencies. Full-grain leather boots are generally heavier than synthetic fabric or the combination of leather and nylon uppers.
Depending on where the emergency medical service personnel work, the EMS boots should have the required features and protective characteristics. However, having all the features adds weight and could slow down EMTs and paramedics when moving fast. Therefore, choose a pair of boots that feature the required protective characteristics for the job without adding unnecessary weight.
Comfortable From Foot Pain
A comfortable pair of work boots are essential for a paramedic to protect feet against foot fatigue and foot pain. Strenuous activities and long hours on their feet result in muscle and foot pain. The best EMS boots feature the required padding, and shock absorption properties that cushion the feet in areas affected the most. 
High-quality boots have a cushioned footbed for ultimate comfort, supportive midsole for protection against impact, and moisture-wicking properties to keep feet dry from the inside. Good airflow and moisture-wicking will wick off sweat from feet and create a bacteria-free environment. 
Material And Construction
Some EMS companies require the EMS worker to wear all-black station boots. Black tactical boots fit most uniforms, are professional-looking, and help EMS workers to stand out from other services at the scene. However, a pair of quality tan leather boots or coyote brown leather looks great and effective as black leather EMT boots.
The most common construction material for EMS boots is leather, or a combination of leather and nylon. These materials are durable, waterproof, and tough enough to withstand the harsh elements, rugged terrain, and challenging situations EMS workers are exposed to daily.  
Most companies may specify boots with a lace-up configuration instead of a pull-on work boot. You can lace a boot for a secure fit that supports feet when running, climbing, or jumping. Many EMS workers prefer a side zip boot with a lace-up configuration. A side-zipper boot is quick to pull on, and the lacing system ensures the boot fits securely. With a 6-8 inches high-top, a side zip is convenient for putting on and off. The side zipper is also handy for relaxing feet and giving feet some breathing room during breaks, and it's fast to zip up again. EMT staff like firefighters will appreciate a side zip boot.
The Best EMS Tactical Boots Reviewed
---
The heavy-duty Danner Men's Arcadia 8 Inch Work Boot is designed for the most rugged and demanding terrain; it's the best EMS footwear for durability, performance, and longevity. The EMS boots come fully packed with a waterproof, breathable Gore-Tex lining and Vibram rubber outsole for excellent traction. 
Reviewers vouch for the boots' durability; some have had their Danners for decades. One reviewer on the Danner website does extensive walking and keeps a pair of boots in his survival kit for emergency response. Made in the USA, Danner's famous stitch-down construction is one of the reasons the tactile boots last so long. The construction also provides increased stability underfoot, and stitch-down boots can be recrafted to extend the tactical boot's lifespan.
With a combination of full-grain leather uppers and 1000-Denier nylon, the EMS boots are abrasion-resistant and lighter in weight than work boots constructed only from full-grain leather. The genuine leather and nylon uppers are fully polishable, and the black boots adhere to rules where companies require EMS workers to wear a black tactical boot. Gore-Tex liners keep feet dry from the outside and inside. With these waterproof EMS boots, paramedics can safely step in wet surfaces, and the moisture-wicking breathability features wicks sweat away from feet.
Eight inches in height, the EMS boots feature a fiberglass shank, 0.75-inch platform, and 1.25-inch raised heel for ankle support and foot stability. Designed for durability and comfort, the tactical boot heel has excellent shock absorption protecting the foot against heavy impact when hitting the ground running. The padded collar and Airthotic footbed are comfortable and snug-fitting.
Men with long, narrow feet will welcome the last's design; others may prefer sizing a half size down for a better fit in tactical boot length. The narrow design of the 650 last provides the support and stability EMS work requires; a secure fit strengthens feet for extensive activities and moving over uneven terrain. Men with wide feet should select the EE style.
Kletterlift Vibram rubber outsoles with an aggressive tread pattern are slip-resistant, oil-resistant, and excellent shock absorbent. The rubber outsole has low lugs for best traction in urban terrain over wet and dry terrain. The EMT boots are Berry-compliant, have a one-year warranty, and the black color blends well with EMS uniforms. 
Features
An 8-inch work boot to protect your legs and support your ankles.
Leather and nylon uppers with stitch-down construction for a more snug and long-lasting fit.
An Airthotic comfort footbed.
Fiberglass shank for stability and protection.
Completely waterproof and breathable with the Gore-Tex membrane lining.
A rugged and slip-resistant Vibram rubber sole.
Available in various width options as this shoe offers a narrow fit.
Black boots that blend with EMS Uniforms. 
---
The side zip Bates Ultra-Lites Tactical Lightweight EMS Boots are an excellent choice for paramedics and medical workers that need to be fast on their feet. The pair of boots has a YKK side zipper for quick putting on and off, are lightweight, comfortable with flexible construction for support and protection. 
The EMS boots feature uppers made from durable leather and performance nylon with a moisture-wicking breathable lining. The waterproof leather and mesh lining keeps feet dry by wicking sweat away from the feet inside the duty boot and preventing rain, water, and fluids from entering from the outside of the footwear. Feet stay cooler with the moisture-wicking mesh upper allowing feet to breathe as the air flows up the tongue and dissipates. Uppers are easy to clean and don't require break-in time. 
Removable cushioned inserts and a lightweight cushioned EVA midsole ensures all-day comfort. The shock-absorbing midsole spreads the impact across the entire area, reducing strain on the feet resulting in more flexibility and better performance. The EVA footbed is removable for easy cleaning. EMS workers who wear customized insoles can replace the EMS boot insoles with their preferred orthotics.  
Cement construction keeps the EMS boots lightweight with a flexible platform. The tactical boots have laces and a YKK side zipper for quick response. The lacing system contributes to a snug fit for support, and the YKK zipper won't break or get stuck when in a hurry.
A rubber slip-resistant outsole keeps feet steady on slippery surfaces, and the rubber soles comply with SATRA WTM 144 slip-resistance tests. Paramedics can focus on the job without worrying about the danger of slippery surfaces; the rubber sole provides the grip and traction performance needed when running through water, mud puddles, oil, or across slippery floors.
The Bates Ultra-Lites Tactical Sport side zip boot combines lightweight, flexibility, comfort, and durability; the classic design features a non-metallic shank and construction, allowing movement in electronic security environments. The tactical footwear comes in black and sage color options. 
The Bates Women's Ultra-Lites 8 Inches Tactical Sport Side Zip Boot is the female equivalent of the tactical men's work boots. 
Features
Combination of leather and fabric uppers with a breathable lining and very lightweight cement construction.
A cushioned removable insert for customizable comfort and support.
The rubber outsole is fully slip-resistant and highly durable.
Side zip boots for easy on and off.
Black and sage color options are available to choose from.
Non-metallic construction for safely moving through metallic detectors
Rubber sole complies with SATRA WTM 144 slip-resistant test. 
Available in men's and women's sizes
---
The Under Armour Infil Ops Tactical Boot are the best EMS boots for paramedics and EMS personnel looking for comfortable footwear on long work shifts. EMS workers don't have to worry about sweaty, smelly feet or the dreaded athlete's foot with the exceptional breathability and ventilation features.  
The Under Armour EMS boot features Cupron Anti-Fugal Pro Fibers that reduce and kill 99.9% of athlete's foot fungus after 12 hours in contact with the sock liner; feet stay fresh, and paramedics don't have to be embarrassed when taking off their work boots. Feet stay dry with the breathable Gore-Tex membrane; the breathable mesh-lining covers the inside of the duty boot from toe to shaft for maximum moisture-wicking effect, and the gusseted tongue deters water. The breathability of the Gore-Tex lining keeps feet cool for ultimate job performance in hot temperatures and during strenuous activities.
A stiff Vibram rubber outsole renders stability and protection when walking and running on any terrain. The Mega Grip rubber compound pattern provides excellent performance and stability on wet grass, tiled floors, tarmac, muddy roads, puddles, and uneven surfaces. An EMS worker can safely run without slipping or losing their footing.  
The EMS boot features a full-length EVA midsole with internal wishbone TPU stability chassis for heel lockdown and support and a scratch rubber heel overlay for additional durability. A molded rubber toe cap provides toe protection, and the rigid rubber outsole shields feet against the penetration of sharp objects. 
A high-abrasion-resistant textile upper features an Anafoam overlay anatomically molded for a secure fit providing excellent support. The duty boots come in the required black and a trendy Ridge Reaper Maverick Brown. The EMS boots easily pull on and off with a boot opening measuring ten around and a shaft 7.75 inches high; the shaft comfortably protects the lower leg. The lacing system design provides a double function, quick fastening, and a secure fit. The top four sets are open hooks for effortless lacing and fastening when in a hurry. The bottom four sets are closed hooks allowing for a tight and secure fit for excellent support. 
The pair of boots are surprisingly light with all the hardware, and the sizing is true to size. The Under Armour Men's Infil Ops boots, with their protective features, breathable air mesh that keeps feet fresh, and excellent traction and grip, are among the best pair of duty boots for EMS workers confronted with volatile situations. 
Features
Available in black and brown colors.
Features a Gore-Tex waterproof, breathable lining for cool feet.
The slip-resistant Vibram rubber sole with Mega Grip technology ensures a superior grip on uneven and slippery surfaces.
Outstanding comfort for long shifts on your feet with anti-fungal fibers to prevent odors and bacteria from developing.
A full-length EVA midsole and internal wishbone TPU plate for shock absorption and puncture resistance.
Lightweight leather and textile uppers of substantial durability.
---
The 5.11 Tactical Men's Apex Waterproof EMS Boot is an excellent choice if you are looking for maximum protection against uncertainties and hazards. The boot has all you need when it comes to EMS work safety and comfort. These are the best EMS boots for keeping feet dry in all weather conditions and elements, from rain to snow. 
Full-grain leather upper with a Vibram MegaGrip outsole holds feet stable on various surfaces; the EMS boots support feet when running over slick concrete or trekking through mud trails. The full-grain leather is waterproof and easy to clean and polish. A Vent BBP waterproof and breathable membrane technology provide excellent waterproofing. The Vibram outer sole is sown-in for additional waterproof protection; no pulling or loosening of seams with this type of construction. 
Each duty boot has a hidden side pocket about 3 inches deep to comfortably hold a pocket knife, flashlight, or valuable tool. The side pocket has a reinforced lip for durability and is situated to the side of the boot, where it is out of the way but easily reachable. 
The work boots are comfortable and don't require a break-in period. For maximum comfort on long work shifts, the duty boot features a D30 Lite EVA midsole, a D30 Support footbed, and a D30 Decell heel cushion for heel and arch support. The insoles are removable for cleaning or replacing with customized insoles.  
The EMS boots are constructed for durability and comfort. The high-top boots feature a pull tab, laces that tie easily, and a tongue that opens far for effortlessly putting the shoes on and taking them off. The Vibram Maltase sole is re-solable, extending the duty boot's lifespan. Paramedics can wear their favorite boots until 80% worn out and then replace the sole. 
Members of the NTOA (National Tactical Officers Association) field-tested and recommended the 5.11 Apex EMS boot; the boots received a good 4.23 rating after being tested in 13 categories. Although not steel-toed boots, the toe box is rigid to protect toes from items dropped on the shoes. The EMT boots are true to size and come in colors Black and Dark Coyote. The 5.11 Apex Tactical Boot is an excellent choice for EMS workers who need a boot with lots of performance that will hold feet securely for hours, are comfortable, breathable, and waterproof. 
Features
Full-grain polishable leather uppers with a bloodborne pathogen-proof and waterproof membrane lining.
A durable and high grip Vibram outsole that is oil and slip-resistant on various surfaces.
The outsole is serviceable and replaceable, extending the boot's lifespan
A comfortable and supportive D30 lite EVA midsole and footbed.
Lightweight and durable construction, and fully weatherproof.
NTOA tested and recommended by members
Hidden side pocket with a reinforced lip to stash a flashlight or multipurpose tool
---
The Original S.W.A.T Metro Air 5″ EMT boot is the best EMS boot for paramedics who prefer a low-rise side-zip boot with safety features. If you need something quick to put on and take off, protective and durable, this is the ideal work boot.
The EMS boot construction is designed for comfort and durability, a combination of leather and nylon (1000 Denier) with double-stitched 3-ply bonded nylon. These boots are as comfortable as tennis shoes and don't need a break-in period. The leather is easy to clean, polishable with low maintenance; a clean wipe and the boots are ready for the next shift. 
A YKK side-zipper in the Vision pattern has a hook and loop closure to avoid hooking onto things. The side-zip boot is easy to put on and take off or loosening the zipper to rest feet during a break but instantly ready to zip up and go. 
For comfort, the EMT boots feature a customer-molded phylon EVA midsole that is lightweight with cradled support preventing foot fatigue and foot pain. The Texon stability platform provides lateral support and torsional rigidity. The airport-friendly nylon shank helps control fatigue, and the custom-molded heel and toe box offer additional lateral support. The visible heel airbag provides shock absorption shielding the heel against impact. 
Paramedics who work in hazardous environments will appreciate the safety features. The composite safety toe is CSA and EN 200 approved, complying with ASTM F2413-11 standards. The EMT boots comply with and exceed ASTM F2412-11 and F2313-11 safety standards safeguarding wearers against electrical hazards.
The non-marking rubber outsole has waffle traction and ladder grip control; the rubber sole is slip and oil-resistant and meets the ASTM F2913-11 safety standards for slip resistance. The boot soles will keep paramedics stable and safe when moving through grease, hydraulic oil, and climbing stands or ladders. A custom-fit EVA insole is removable for easy cleaning or replacing with custom orthotics. 
Features
Genuine leather uppers with a CSA and EN 200 approved composite safety toe.
Electrical hazard safe according to ASTM ratings.
1000 denier Nylon in the uppers for durability and comfort with a handy YKK side zipper for quick on and off.
Features a Texon stability platform for lateral support and torsional stability.
---
With full-grain leather construction and high-abrasion-resistant mesh lining, the uppers are scratch-resistant and durable with great moisture-wicking features. The anti-collision toe-cap shields the toe against hard objects; perfect for hiking, tactical kicking, and daily activities. Breathable mesh lining keeps feet cool and dry as it wicks sweat away from feet.
These work shoes will protect an EMS worker's feet as they rush to the emergency scene. When jumping, running, climbing, and hiking is part of the job, the high-cushioned heel supports, and shields the ankle and Achilles tendon against a wide range of motion impact. The shaft is 6 inches high, and the platform measures 0.98 inches.
EVA midsoles and padded lining provide the necessary all-day comfort with superior cushioning for shock absorption and arch support. The airsoft cushioned insoles contribute to the boots' breathability; the anti-microfiber function enhances sweat absorption away from feet and dries quickly.
The EMT boots feature classic design high-quality copper metal buttonholes for the nylon shoelaces. Paramedics in a hurry will appreciate the speed lace fastening system; two sets of open hooks at the top ensures quick lacing and wearing or taking duty shoes off.
Boots are true to size and are available in various color options. There are two options for the black work boots, the full-grain leather construction, which is waterproof, or the black suede leather. Those who prefer a desert boot color can choose between the waterproof Coyote brown or the lighter waterproof tan EMT boots.
Features
Wear and tear-resistant full-grain leather construction
Breathable mesh lining keeps feet dry and cool from sweat
Anti-collision toe cap shields toes when hiking
High-cushioned heel protects Achilles tendon from impact
Comfortable EVA midsole with shock-absorption and ankle support
Speed lace fastening system with classic copper metal buttonholes
Insoles with anti-microfiber, sweat absorption, and quick drying
Boots available in black, tan, and coyote brown