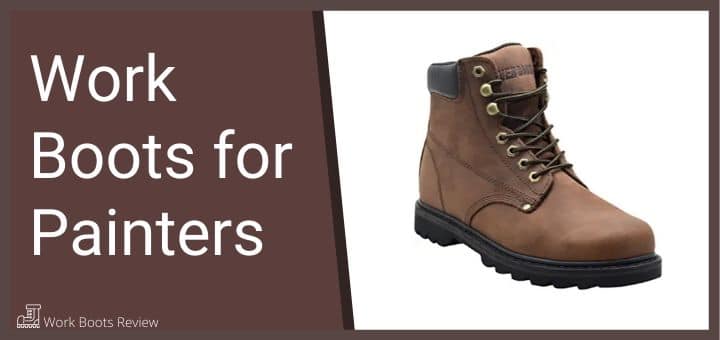 Whether you paint part-time, full-time or casually at home, it's essential to wear the correct footgear for it.
Find out more below on the best work boots for painters, what safety hazards you need them to avoid as well as details on some of the best painters work boots.
---
Painter Safety Hazards
While painting is regarded as one of the safest construction jobs, it still comes with its own set of hazards – especially concerning your feet!
Some safety hazards common to all painters include:
Long hours of being on your feet, which tends to lead to foot fatigue, exhaustion, aches, and pain.
Lifting heavy or awkward objects, applying pressure to all the joints of the body, particularly the feet.
Working in uncomfortable positions that require the feet to flex or bend.
Exposure to chemicals, paint, solvents, heavy metals and various other toxic substances.
Risk of injury from falling objects if painting in a construction site.
Risk of falling from a height if painting high walls.
Slipping, tripping or falling over on wet or slippery surfaces.
Constantly going up and down ladders and scaffolding, an action that puts immense strain on the feet.
Working near or on top of electrical hazards, especially if using electronic equipment to paint with such as an airbrush.
Wearing the right pair of work boots for the type of painting you do can help to remove or reduce many of the above risks.
---
Features of a Good Work Boot for Painters
Here are some features that should be included in work boots for painters if you want to avoid the dangers mentioned above.
Chemical & Oil Resistance – Most paints are oil-based and need the use of solvents such as turpentine to use. Chemicals like these can wear down boots faster that are not resistant to them.
Excellent Traction – To prevent slipping and falls, good grip on the outsoles of your work boots are essential.
Decent Flexibility – Many work boots are rigid and built to withstand lots of pressure. However, rigidity puts even more pressure on your feet, particularly when bending over or working at odd angles. Get a pair of work boots with decent flex to help your feet move more naturally and distribute some of the pressure off of them.
Padded Arch Support – Arch support is vital for maintaining healthy feet when standing all day. The more padded the arch support, the more comfortable your feet will feel.
Safety Toe – If you paint on construction sites, it is advisable to wear work boots with a safety toe to protect your feet from being crushed under any heavy falling objects.
---
Reviews: The Best Painter Work Boots
Below are some of the finest quality work boots for painters, ranked for being durable, affordable and comfortable.
---
1
For those who are on the hunt for a pair of decent, cost-effective work boots that can be messed on with paint, look no further!

EVER BOOTS tank work boots offer superior grip, preventing you from falling while on the job.

The rubber outsoles offer decent flex and are not burdensome to help prevent foot fatigue after a long hard day.

Padded arch support insoles are removable and slip resistant, keeping your feet comfortable and blister free.

Comes inclusive of a 3-month manufacturer warranty, allowing you to return them if you are unsatisfied during that time.

---
2
The smooth look of Carhartt's composite toe boots will keep you comfortable and feeling great all day long.

The top quality leather covering is both water and chemical resistant, allowing you to get your feet covered in paint or work in wet weather without much trouble.

A shock-absorbing rubber sole confers maximum traction and flex, preventing foot fatigue and providing optimal stability.

Ortholite insoles will show you the way through your day with guided support and ultimate comfort.

Comes equipped with electrical protection and lightweight composite toe for additional safety.

---
3
May be unavailable as of 2 Aug 2020.

Rubber soles with a steel toe provide the best painters work boots as seen in these 2nd Shift CAT's.

Decent flexibility, stability and a steel shank embedded in the soles offer superior support and can help you with those awkward angles.

The outsoles are slip and oil resistant, preventing accidental falls while you paint the town.

A padded collar and tongue ensure comfort around your heels and ankles.

Nylon mesh lining has been strategically placed on the inside of the boots to keep them fresh and dry, letting moisture escape.

Includes electrical hazard protection for those who operate heavy equipment alongside their paint.

---
4
The Timberland PRO Men's MetGuard is a rugged pair that makes an excellent work boot for painters. Durable, sturdy, and comfortable, these boots provide the well-needed protection against abrasion and certain chemicals that may come from paints.
The Timberland PRO Men's MetGuard boasts durability like no other as the boots are crafted with 100% premium leather uppers.

The pair is also built for various surfaces as they guarantee reliable grip and traction with their sturdy, slip, oil, and abrasion-resistant rubber outsoles.

These work boots are also designed to provide comfort as they come with closed-cell PU footbeds.

These work boots for painters also provide added protection as they meet ASTM safety standards.

The Timberland PRO Men's MetGuard is a pair that is not only comfortable but extra durable as they follow the classic Goodyear Welt construction along with the use of Kevlar thread.

---
5
The Timberland PRO Helix work boot was made for superior comfort, heavy duty work and lightweight protection.

Rubber soles with shanks provide stability as well as heat and slip resistance, even when standing on oil or paint.

The insoles take full advantage of Timberland PRO's superior anti-fatigue technology, preventing force form tiring out your feet for hours on end.

A composite safety toe helps to keep your toes safe from being crushed.

The toe box provides a roomier fit than most work boots as well as a considerable amount of flexibility.

Antimicrobial footbeds offer the best-contoured arch support and keep your feet dry and odorless.

---
6
Made for dealing with heavy chemicals, these wellingtons are ideal for those who do heavy paint jobs and need protection up to the knee.

Triple Density Technology PVC resists breaking down from many harsh chemicals, including paint solvents.

100% waterproof and seamless, these wellingtons allow you to paint in wet conditions without getting damp feet easily.

A removable, contoured footbed gives the best possible cushioning imaginable, supporting both your heels and arches.

Reinforced at critical stress points for longer life.

Easy to pull on and off with a wide profile for additional foot room and comfort.

---
Comparison Table: Top Work Boots for Painters