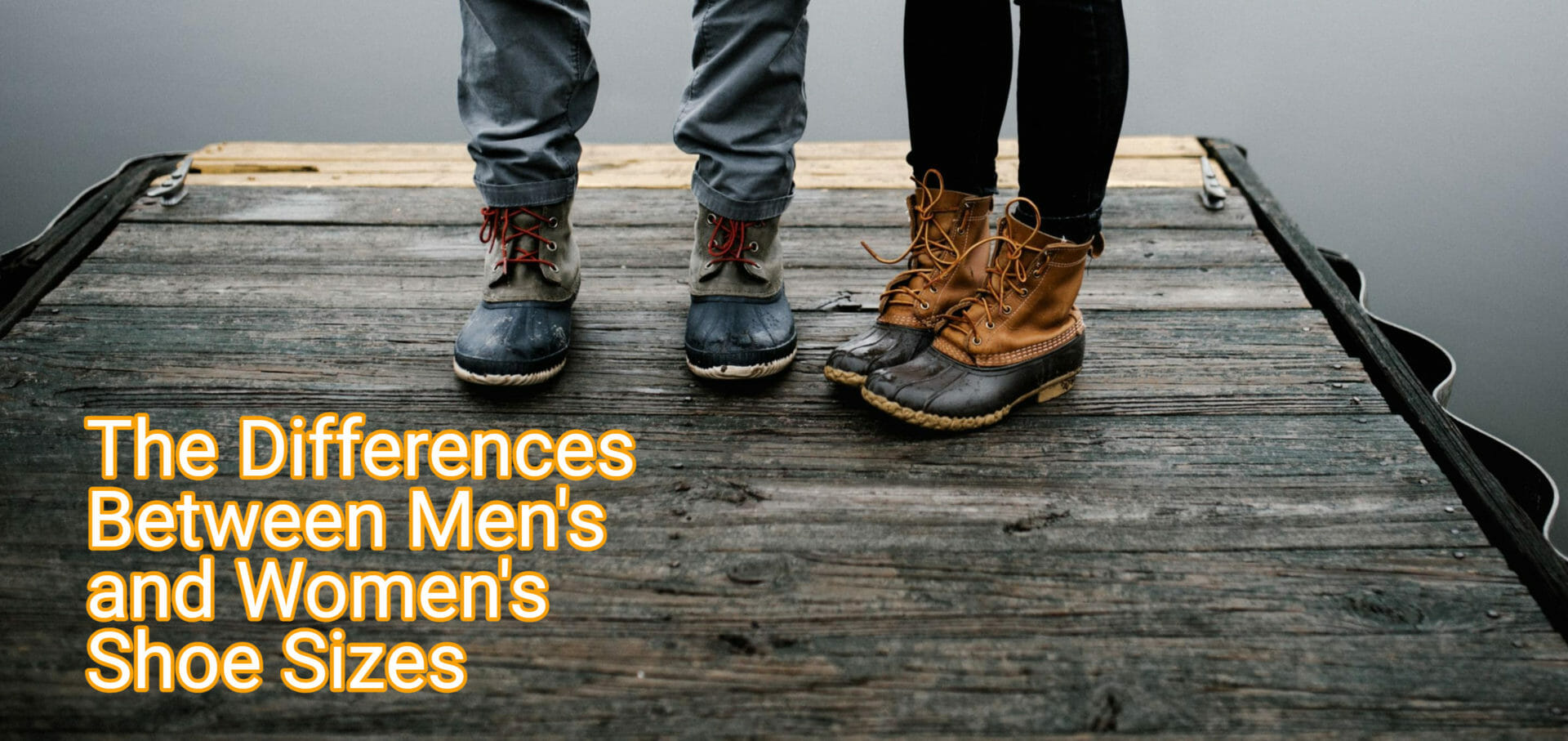 The differences between men's and women's shoe sizes are more than adjusting to the correct shoe size. The most significant difference is the length and width, but various styles, trends, types of shoes, and physiological differences also differentiate between men's and women's shoe sizes. What about unisex designs? Is there a difference when buying a unisex pair of sneakers, shoes for formal occasions, or social outings? How do you convert the men's larger size work boot to a women's shoe size?
How Do Men's And Women's Shoes and Shoe Sizes Differ?
How To Convert Men's And Women's Shoe Sizes
The rule of thumb is men's shoes are about 1.5 sizes larger than women's shoes, which means a men's size seven is about the same size as a women's size of 8.5. Add 1.5 when converting men's shoe size to a women's shoe size and subtract 1.5 when converting a women's shoe size to men's shoe size.
The smallest men's size is US 5.5. A woman with a shoe size seven or smaller should consider boys' shoes.
If you prefer a half size larger in athletic shoes or a tighter fit with a dress shoe, the same rule will apply when converting shoe sizes to the opposite sex. A gender shoe size conversion chart will help you convert to the correct shoe size.  
Unisex style shoes are sized according to a man's average foot size. Men can buy their actual shoe sizes in unisex designs, but women need to convert the size in the same way they convert women's sizes to men's sizes.
Gender Difference in Width And Length Conversion
Men's and women's feet vary in width and length. Men's shoes are larger compared to women's shoe sizes.
Length Conversion
The foot length is one difference in men's and women's shoe sizes. Men's feet are 1.5-2 times longer than women's feet. When converting in length, the same shoe size in women's size shoe would be the US or Canada 9.5 and in a men's size a the US or Canada 8.
Width Conversion
The key difference between men's and women's shoes is the shoe width. The difference in foot shape means a woman's shoe is narrower in the heel and wider in the forefoot and toe area. However, men have larger feet which means their shoes are designed wider than women's shoes. Men's shoes are generally two widths broader than female shoe sizes.
The width sequence in shoe sizes range, from narrow to wide, is 4A to 2A, A, B, C, D, E, 2E to 6E. An average man is a D width and an average woman a B width. Some shoe brands have half sizes to indicate a wider shoe.
Some types of shoes have a narrower or wider design than standard shoes, which means you will have to size up or down for a perfect fit. People with a wider or narrower foot sometimes find that the opposite gender's shoes fit better. A man with a narrow foot may prefer converting to female shoe size, and a woman with a wide foot may like a man's pair of shoes.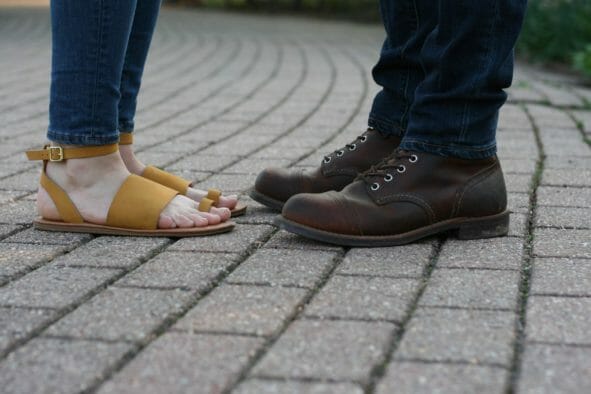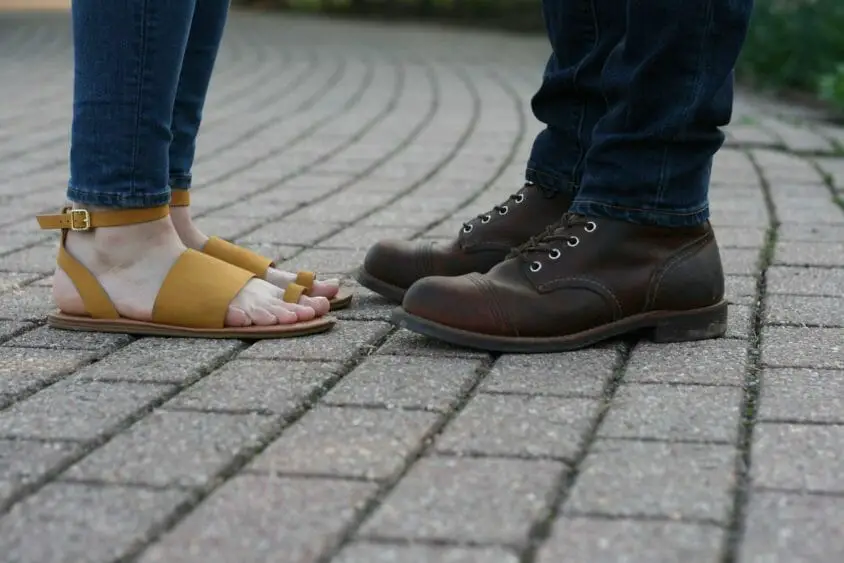 Anatomical And Physiological Difference in Men and Women
The anatomical and physiological differences in men and women are portrayed in their shoes. The same type of shoes will have different heel support and midsole materials to accommodate these differences.
Foot Shape
A woman's foot is smaller in size than a man's foot and differs in foot shape. Her outside length is shorter, the inside line more curved, the big toe shallower, and the arch higher. Shoe manufacturers use different foot lasts (template or mold) for men's and women's pairs of shoes.
Q Angle
The Q angle or quadriceps angle is the angle formed between the quad muscle and the patella tendon (knee cap). Women tend to pronate more than men because of the higher Q angle from a wider hip and pelvis shape. Women's shoes are often made from more supporting material than men's shoes to counteract this.
Weight
Men have on average 15% more muscle which makes them heavier than a woman. The greater weight means more impact pressure on the feet. To maintain the durability and sustain the shoe form and shape, the foam durometer used for men's midsoles is about 15% harder than for women.
Women's shoes have deeper carved flex groves on the forefront of the outsole than men's shoes to help them flex the midsole; a woman's lower-body mass makes it harder to bend the midsole. 
Using Shoe Size Conversion Charts
Shoe stores have conversion charts for accurate shoe conversions. If you know your foot size, you can purchase the perfect pair of shoes at online shoe stores too. Online shoe shopping is so much easier using a country-specific shoe size chart. 
When measuring your feet, make sure you measure the length and width of each foot. The foot length is the horizontal distance between the heel and the largest toe, and the foot width is the horizontal distance between the widest parts of your foot.
American shoe sizes and Canadian shoe size charts are interchangeable with no actual difference in shoe size.
The Mondopoint shoe size system is widely used as the fitting size in the sports industry for athletic shoes, skates, ski boots, and ballet shoes. It measures foot length and width in millimeters. Russia and East Asia shoe size conversions also measure foot sizes in cm for a child shoe size and adult shoe sizes.  
The Continental European countries shoe size system uses the length of the last expressed in Paris points to indicate the fitting size for a child shoe size and adult shoe sizes. The last length is 2-2.5 Paris Points (one Paris point is 2/3 of a cm) longer than the actual heel-to-toe length.
United Kingdom shoe sizing also uses the last length expressed in barleycorns (1/3 inch). Average women's British sizes are 2.5 sizes smaller and men's two sizes smaller than US and Canadian sizes. 
The European size system list adult shoe sizes from 35-49 and is based on foot length. For example, a women's US size 7 is European size 37, and a US 7.5 is EU size 38. When converting to female shoe size, add 30 or 30.5 for half sizes to your US size and 32 or 32.5 for