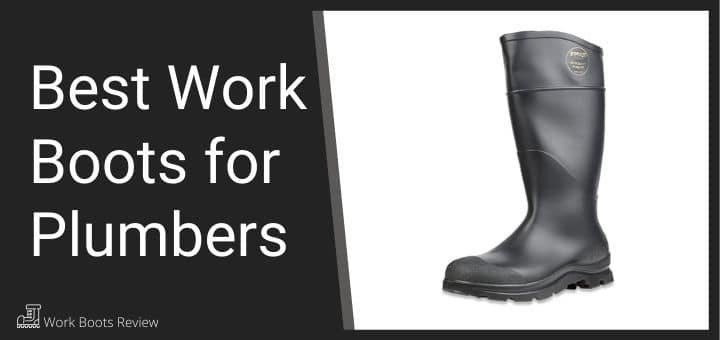 Plumbing can get messy without the proper gear.
Learn more about plumbing hazards below that pertain to your feet, how you can avoid them as well as a review of some of the best work boots for plumbers.
---
Plumber Safety Hazards
Plumber safety hazards will vary from job-site to job-site and also depend on what the specialty of the plumber is. Knowing the safety hazards of a job can help to choose the correct protection work boots.
Here are some safety hazards that plumbers should remember when choosing the right work boots:
Working in awkward positions to fix pipes, faucets, and leaks.
Hauling heavy goods, which applies pressure to the feet, knees, back and hips.
Dealing with high temperatures when fixing water heating systems.
Handling hazardous substances such as heavy metals, chemicals, adhesives and solvents.
Manually repairing or making new parts for specific fits, which often requires the use of heavy machinery and various tools.
Working in wet, slippery or muddy environments that may or may not have contaminants or bacteria.
Climbing up and down ladders, which applies pressure to the feet.
Exposure to electricity and electrical shock hazards, especially in wet environments.
Possibly working in extreme weather conditions such as snow or ice.
---
Features of a Good Work Boot for Plumbers
As a plumber, you'll need a pair of work boots that suit your area of expertise. The below features solve problems common to all plumbers and will be found in all the best plumber's work boots.
Waterproof – All plumbers deal with wet working environments, and therefore a pair of waterproof boots is essential. Wet feet often cause blisters and infections. Moisture-wicking waterproof boots are the best, as all the moisture from both inside and outside the boots gets channeled out, keeping your feet 100% dry.
Chemical & Heat Resistance – Working with strong chemicals that melt fabrics or high temperatures as found in many water heating systems, there's a chance that your feet will become a prime target. Make sure to get heat or chemical resistance boots, depending on the nature of your plumbing work.
Flexibility – Plumbers are bound to be bending down and working at odd angles. Many heavy duty work boots don't allow enough flex to do this comfortably, which is why it is important to get one that has some flexibility.
Strong Traction – Wet, muddy and slippery environments are a recipe for disaster without slip-proof boots. Get a pair with strong traction that will stop you from falling over when on the job.
Safety Toe – If you work with heavy objects or machinery, then it is advisable to get a composite or steel safety toe to protect your feet from accidentally being crushed.
---
Reviews: The Best Plumber Work Boots
Below are some of the best plumber work boots, all of which are waterproof, moisture-wicking and flexible to suit your needs.
---
1
Here are a pair of excellent waterproof boots for plumbers or anyone who needs to work standing ankle-deep in water, mud or sludge.

Chemical resistant and slip-proof, these boots will serve well in both agriculture, boating and plumbing setups.

A steel toe prevents heavy objects from crushing your toes.

Abrasion resistant outer rubber toes protect the boots from excess wear and tear.

The soles have an electrical hazard protection outsole, preventing you from shocking yourself if manning machinery in wet environments.

A lightweight insole provides your feet with excellent arch support, comfort and motion control while also being removable and washable.

The contoured heel cup keeps your feet locks in place, preventing them from sliding around inside the boots.

A tall waterproof shaft allows you to wade eternally in water up to the middle of your shins without getting wet.

---
2
These are ideal for a plumber who works in cold, wet regions that need to keep their feet dry, comfortable and insulated.

Covered by a triple hydrophobic membrane, the second layer prevents water from entering the shoes and keeps your feet from being drenched.

Insulated with 3M Thinsulate Technology, which keeps your feet warm in the cold but does not overheat them in warm weather.

A stable steel shank provides your feet with extra support, alleviating pressure while working on uneven surfaces and climbing ladders.

The dual-density mid and outsoles both work together to provide shock absorption, flexibility, and stability, even while working on slippery surfaces.

---
3
The Timberland Titan Work Boots will keep your feet dry, fresh and comfortable all day long while working pipes.

Entirely waterproof, the premium leather construction will prevent your feet from getting wet.

A moisture-wicking, anti-microbial lining helps to minimize perspiration and odor after a hard day of work.

The base of the shoes is both oil and slip resistant, ensuring that you never fall while working.

The midsole and inner sole are both lightweight and include durable cushioning and flex, keeping your feet supported and comfortable.

A reinforced heel and padded ankles help secure the boot and reduce pressure on the joints.

---
4
Ultra Dry Boots from EVER BOOTS were built to last, offering perfect traction, support and moisture proofing.

Lightweight soles provide an anti-slip grip with shock absorbing traction, allowing you to walk in mud, water or oil without losing your balance.

The uppers are sealed on using Seal-Direct Attached Construction which ensures that no water leaks through the seems.

A dual-layer waterproof leather membrane covers the entire boot to prevent damp inside the shoes.

Mesh lining wicks away moisture, eliminating all the damp from the inside of your shoes too, keeping your feet extra dry, comfortable and protected.

---
5
These leather pull-on boots are 100% sealed, oiled, waterproof and ready to go for those who work wet, slippery operations every day!

A composite toe and shank provide added support and protection while being entirely lightweight and easy to work in.

Gen-Flex2 outsoles provide the user with an excellent amount of flexibility and traction, allowing for natural foot movement and less fatigue on the feet.

A rubber toe guard prevents abrasion to the boot and increases durability, especially for those who spend lots of time on their knees.

The footbed is very comfortable with lots of cushioning, and one can easily remove and replace it if in need of specific support.

---
6
These lace-less pull-ons are perfect for when in a rush and allow one to complete any wet, heavy duty task safely.

A composite safety toe keeps the boots light while protecting your feet from being crushed from heavy objects.

Traction on the underside of the soles and the lightweight shank on the inside help to keep you stable.

The leather is entirely waterproof and weather-resistant up to the ankle.

Made with puncture-proof, electrical hazard rated midsole, to ensure that you don't shock yourself and can work for longer without wounding your feet.

---
Index Table: Top Work Boots for Plumbers