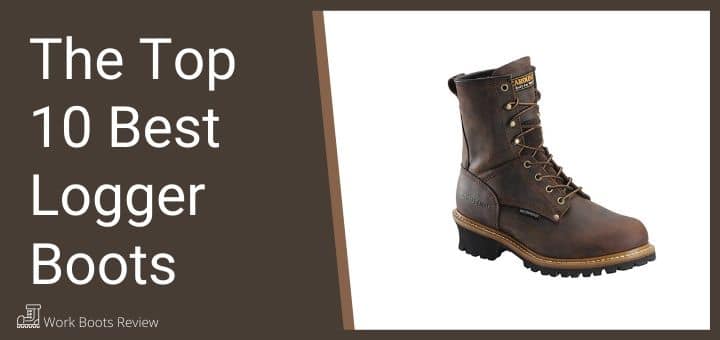 Loggers spend the majority of their time working outdoors actively on their feet for many hours, they face many risks every day and therefore need the right work clothing and protective equipment to work safely.
One of the most important part of their personal protective equipment is, of course, top quality logger boots, which will not only provide safety and protection in the environment that they are working in but also all-day comfort and support.

---
---
What Exactly is a Logger
Loggers are men and women who work in the forest harvesting Timber, an ancient profession that can be quite demanding on the logger.
A successful Logger needs to have expert knowledge of forest economics and exceptional mechanical skills.
Loggers work in forests all over the world in different weather conditions and terrains.
What does Logging Work Entail
Loggers use mechanical equipment such as harvesters, skidders, cable yarders and chainsaws to harvest timber. They load the timber on large trucks and take it to sawmills and paper mills to be processed.
The Main Features of a Good Logging Boot
Liquid resistance – A good pair of Logger Boots should be able to resist oil and other liquids. Loggers work in both wet and dry weather conditions and need a boot that is waterproof. Oil and chemicals from the machinery used can also enter the boot. Therefore the boot should be oil and chemical resistant as well.
Firm Foothold – Because a Logger works on many different terrains, sometimes in wet conditions and slippery areas the boot should have an outer sole that offers excellent grip and a solid foothold on any surface area.
Comfort – A logger works on his feet, standing, walking and even climbing for many hours a day, so a boot that will offer maximum support and comfort is essential.
A good Logger boot should also keep your feet dry and cool in hot weather conditions and warm in colder weather conditions.
Ventilation – Some logger boots are insulated for work in cold conditions.
Airflow inside the boot is important to keep your feet healthy and to prevent foot fatigue.
Arch Support – Depending on your arch type (high/normal/low) you need to choose appropriate boot, for more you can read about our excellent choice of work boots for flat feet.
Protection – A steel or composite toe offers protection against falling tools and materials which is one of the risks faced by loggers in their working environment. Electrical hazards are also present therefore a boot with electrical hazard protection is a great advantage.
Durability – Loggers need a hard-working, tough and durable boot that can withstand many elements, and still last for a long time, in their profession. A well-constructed boot made from high-quality materials is an absolute necessity for every Logger.
---
Reviews on the Best Logger Boots
Here are a few of the best choices in Logger Boots for 2019;
---
1
The Carolina Work Boots Brand has the Best Designed Logger Boots!
It is a no-nonsense work boot that is tough, durable and well known for its functionality and flexible design. These boots will give you a great foundation for any logging work from big wood to peeler poles.

Completely waterproof.

Constructed from the finest quality leather.

A one-piece sure rubber grip lug sole for excellent grip on any surface.

Insulated with 600 grams of Thinsulate to provide you with warmth in cooler weather conditions.

Sturdy steel shanks for added stability and protection.

An 8-inch shaft from the arch.

Electrical hazard rated.

Lined with Taibrelle.

Welt Construction for durability.

Available in brown, black and black leather.

---
2
Loggers and wildland firefighters use these boots. The Danner Logger 8 Inch is an all leather boot with a foot conforming heel and toe box, designed for exceptional comfort and durability.

Completely waterproof to keep your feet dry in any weather conditions.

A sturdy Vibram sole.

The shaft measures 10 inches from the arch for extra leg protection.

Constructed from high-quality black leather.

A comfortable boot that is easy to break-in.

Made in the USA.

---
3
The Chippewa Logger Boot is a perfect work boot for the man that needs an all in one work boot. It is a waterproof, insulated, steel toe boot with a rugged logger boot design.

This shoe Contains a removable waterproof Texon 460 insole.

A 9 inch oiled leather shaft over a matching leather foot.

A waterproof and sweat-permeable membrane.

The steel shank is triple ribbed.

The Vibram Tacoma Logger sole will enable firm footing.

Speed hooks for easy lacing.

Heavy duty stays put wax laces for improved durability.

Goodyear Welt construction is making this boot even tougher.

A Ruby DriLex 2000 lining to keep your feet dry all day.

ASTM electrical hazard rated.

Available in black and brown.

---
4
Whether you are working in a forest or an outdoor worksite the Timberland Pro Rip Saw Logger Boot will have your back! A durable boot with all the safety features required for a logger work boot as well as excellent comfort and support characteristics to enable you to perform at your best while staying safe and protected.

Manufactured using Goodyear Welt construction technology.

Manufactured using waterproof leather and Ever-Guard leather in high abrasion areas.

Agion lining for a fresh and dry interior.

A steel shank, dual-density anti-fatigue technology, and Powerfit system for stability and comfort.

Contains 400 grams of flame laminated Thermolite insulation to keep your feet warm in cold weather conditions.

A Titan shaped composite toe for added lightweight protection and a roomier fit.

An Independent Suspension network and Vibram rubber outsole for multi-density traction and shock absorption.

Swen-Flex puncture-resistant plate for flexible protection under your feet.

Meets the can/csa-z195-02 safety standards.

---
5
The Georgia Loggers are a handsome pair of work boots that will help you tackle just about any terrain. Gentle on your feet but tough and hard-working on the outside this boot will help you get the job done.

Tanned black leather construction for comfort and durability.

A shaft that measures 8.5 inches from the arch.

The rubber sole offers excellent grip on any surface.

A covered cushioned insole.

Replaceable Goodyear Welt construction.

Available in black, oily black and chocolate brown.

A durable and comfortable work boot with a no steel toe.

---
6
Yet another excellent Logging Work Boot from Georgia, this time featuring a steel toe and abrasion resistance.

Durable eight-inch logger boot constructed from the best quality leather.

A durable rubber outsole that is abrasion and slip-resistant.

The steel toe offers maximum protection against falling objects and compression hazards.

A shaft that measures 8.5 inches from the arch.

Completely waterproof to keep your feet dry in wet conditions.

A comfortable lace-up fit for all-day wear.

---
7
The Wolverine Buckeye Logging Boots are tough and durable, as well as perfect for wet and cold weather conditions.

Manufactured from pure quality leather with 400 grams of 3M Thinsulate insulation for cold weather conditions.

A Gore-Tex waterproof breathable membrane ensures that your feet stay dry at all times.

The Goodyear Welt constructions improve durability and quality.

A Vibram Rubber Lug Outsole for excellent traction in the toughest environments.

---
8
The Irish Setter Mesabi Logger Boot from Red Wing is just another one of Red Wings excellent Work Boots, featuring a protective Steel Toe and 600 grams of insulating, making this an all in one perfect work boot for logging work.

Manufactured from high-quality leather with a durable high traction rubber sole.

Added electrical hazard protection.

The leather is waterproof and the boot is insulated with 600grams of insulation for cold and wet weather conditions.

A steel toe offers, even more, protection against work hazards.

---
9
The Carhartt CML8360 is a well-constructed waterproof logging work boot that offers you 8 inches of protection against work hazards and the elements.
An eight-inch shaft, with genuine leather uppers lined with a waterproof lining.

The PU insole, padded collar, and tongue will ensure you have a snug and comfortable fit.

Stabilizer features and Achilles flex joint technology gives you freedom of movement without the risk of injury.

Electrical hazard safe with a soft, lightweight toe.

The durable rubber outsole is chemical, slip and oil resistant.

---
10
Another eight-inch logger boot for ideal ankle and calf protection, the Carolina Steel toe is just plain tough and hard-working, with all the safety characteristics for a harsh work environment.
Tough leather construction with a fully waterproof membrane.

Lightweight offering only the best when it comes to supporting and comfort.

A supportive and stabilizing steel shank and the protection of a steel toe.

The cushy comfy PU insole will prevent foot fatigue and provide the utmost in comfort.

A heavy performance with a lug rubber outsole for excellent slip resistance.

To top it off this work boot is also electrical hazard safe.

---
11
One of the most comfortable and stylish logger work boots so far is the AdTech Nine Inch. Not only does it give you nine inches of durability and protection, but it also has a classic and streamlined appearance.
Available in black and tan leather uppers.

Deeply oiled leather makes the boot completely water resistant.

A durable and slip resistant outsole to keep you firmly on your feet.

Extremely tough and durable, ensuring you have a long-lasting performance.

---
Index Table: Top-Rated Logger Boots
---
Logging work can take quite its toll on your feet and has many risks and hazards for the logger to face, different terrains and weather conditions are also part of the job description.
The above-mentioned Logger Work Boots will offer any hard-working logger with the comfort, durability, and safety required for even the toughest and the riskiest logging work.