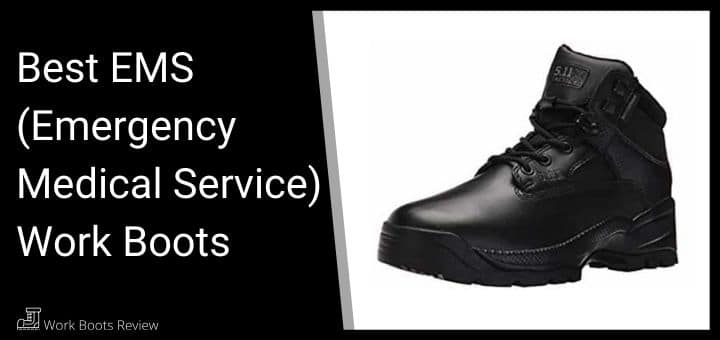 EMS, which is "Emergency Medical Services", refers to all the staff involved when it comes to Emergency Medical services, such as ambulance staff, paramedics, and all those who provide out of hospital emergency care.
These true heroes need a good working shoe that can perform under pressure and protect their feet in a variety of situations and terrains.

---
Who Needs a Good Pair of EMT Footwear
Emergency Medical Service Work Boots are a good choice for Ambulance staff, Paramedics, Emergency staff at the hospital, nurses and in some cases physicians.
These work boots function equally well for all out of hospital medical service providers that need something that can function as a proper medical care industry shoe, as well as an outdoor and all-terrain work shoe.

---
Dangers Faced by Emergency Medical Staff
Emergency Medical Staff faces many dangers every time they are called out to an emergency scene. They come into close contact with blood and body fluids on a daily basis and are exposed to infectious diseases, physical dangers, as well as many outdoor elements.
Here are the few of the main hazards;
Assaults – Physical attacks from intoxicated or belligerent patients, bystanders and street gangs are not uncommon.

Back Injuries – Most EMS staff face above-average rates of physical injuries and illnesses, because their bodies are under constant stress from bending, kneeling, heavy lifting and many other uncomfortable work positions. Most EMS staff have a history of back injuries or conditions because of their working circumstances.

Bloodborne Pathogens – One of the things that paramedics and medical staff are mostly exposed to is blood and body fluids. They risk infection from bloodborne pathogens and many viruses, including the AIDS virus, on a regular basis.

Hearing Loss – Emergency medics are constantly exposed to loud noises such as ambulance sirens, air horns, apparatus, engines, sirens and power tools, which in turn causes much damage to their ears, resulting in hearing loss. This is unfortunate because these medical workers need an excellent hearing in order to hear patients who struggle to talk, cries for help, and in turn distinguishing between different sound cues.

Physiolocial Stress – The emotional and mental trauma of constantly dealing with life or death situations is overwhelming, and can cause post-traumatic stress, anxiety, as well as nightmares and depressions in EMS staff. The extreme pressure of having to make critical decisions within seconds, dealing with authorities and bureaucratic management is devastating, to say the least.

Physical Injuries – Paramedics and medical staff come into contact with many dangerous objects, substances and hazards that can cause a variety of physical injuries. The areas that they need to work in some cases may be highly dangerous, for examples fire, explosives, caved in buildings, and many more. All these situations and environments can lead to serious injuries, and in the worst case scenario, even death.

---
Features You'll Find On The Best Paramedic Boots
Flame and cut resistant uppers where necessary.

Bloodborne Pathogen and liquid proof.

Breathability and a moisture wicking lining.

Easy on and off construction, such as a speed lacing system, slip on or zip design.

Gore-Tex waterproofing

Abrasion and heat resistant outsole.

A completely slip and oil resistant high traction, durable outsole, either rubber or Vibram.

A comfortable cushioned insole and shock absorbing EVA midsole.

A shank for stability.

---
Best Paramedic Work Boots Individually Reviewed
1
The Storm work boot is a booty that comes highly recommended for EMT and paramedic workers. An excellent choice in mid range boot that will likewise fit your budget.
Durable and waterproof leather uppers.

An oil and slip resistant rubber outsole.

Inside there is a comfortable moisture wicking lining

The uppers are rugged and feature a full grain leather reinforced toe.

The ideal basic protective and comfortable boot for EMS staff.

---
2
This work boot is ready for action in the most rugged and demanding terrain. The Danner Arcadia comes fully packed with a Gore-Tex lining and Vibram rubber outsole.
An 8-inch work boot to protect your legs and support your ankles.

Leather and Cordura uppers with stitch down construction for a more snug and long-lasting fit.

An Airthotic comfort footbed.

Fiberglass shank for stability and protection.

Completely waterproof and breathable with the Gore-Tex membrane lining.

A tough and slip resistant Vibram outsole.

Available in wider width options as this shoe offers a narrow fit.

---
3
For paramedics and medical workers that need to be fast on their feet, the Bates Ultra Lite has a lightweight and flexible construction, along with 8 inches of full protection.
Leather and fabric uppers with a breathable lining and very lightweight cement construction.

A cushioned removable insert for customizable comfort and support.

The rubber outsole is fully slip-resistant and highly durable.

A side zipper for easy on and off.

Black and Sage color options are available to choose from.

---
4
The ideal work boot if you work in an area where it gets very hot. The Infil Ops from Under Armour ensure exceptional breathability and ventilation, and is a very lightweight boot.
For hot weather mesh uppers 8 inches
Available in both black and brown color options.

Features a Gore-Tex waterproof, breathable lining.

The Vibram outsole ensures superior grip and, slip resistance.

Outstanding comfort for long shifts on your feet with anti-fungal fibers to prevent odors and bacteria from developing.

A full length EVA midsole and internal wishbone TPU plate to offer shock absorbency and puncture resistance.

Lightweight leather and textile uppers of substantial durability.

---
5
The Thorogood Gen-Flex 2 is a tough american made work boot that is very comfortable and able to handle tough terrain.
A strong JUMP boot, perfect for Paramedics or EMT workers.

Ankle high with oil tanned leather uppers and a polishable heel counter and toe cap.

A removable polyurethane footbed for comfort and supportive and shock absorbing EVA cushion flex.

Goodyear storm welt construction for durability.

There is a spacer mesh lining for better ventilation to keep your feet dry.

The compression molded EVA midsole and 300g Gel heel is excellent for shock absorption when jumping or running.

---
6
An excellent choice if you are looking for maximum protection against a variety of hazards. The Apex 5.11 has all you need when it comes to EMS work safety and comfort.
Full grain polishable leather uppers with a bloodborne pathogen proof and waterproof membrane lining.

Offers fire safety protection features.

A durable and high grip Vibram outsole that is oil and slip resistant on a variety of surfaces.

The outsole is completely serviceable and replaceable.

A comfortable and supportive D30 lite midsole and footbed.

Lightweight and durable construction, and fully weatherproof.

---
7
The Airpower EMS work boot, from HAIX, is the perfect ASTM rated safety work boot for emergency staff and similar occupations.
Offers protection against Chemicals, Bloodborne Pathogens and electrical hazards.

An NFPA certified EMS operational woorkboot.

Quick on and off with the side zipper and comfortable upper design.

Waterproof and breathable, with a slip and heat resistant rubber outsole.

the
---
8
A rugged work boot offering full protection for Emergency staff workers and assistants.
Features a protective steel safety toe and a durable and slip-resistant rubber outsole.

Comfortable leather uppers that are .

Padded collar and cushioned insole for comfort.

Available in a few neutral color varieties to choose from.

---
9
If you need something that's quick to put on and take off as well as protective and durable, then this is the ideal boot for you.
Genuine leather uppers with a CSA and EN 200 approved composite safety toe.

Electrical hazard safe according to ASTM ratings.

1000 denier Nylon in the uppers for durability and comfort with a handy YKK side zipper for quick on and off.

Features a Texon stability platform, for lateral support and torsional stability.

---
EMS Boots in a Nutshell
EMS work boots are born to work in and around medical stations on a variety of terrains, facing many elements. The boots I have chosen are all tough and durable, with some unique comfort and protection features.
---
The Top Rated Most Comfortable EMS Boots Compared